Early diagnosis is important.
Whether your tooth cracks from an injury or general wear and tear, you can experience a variety of symptoms ranging from erratic pain when you chew your food to sudden pain when your tooth is exposed to very hot or cold temperatures. In many cases, the pain may come and go and your dentist may have difficulty locating the tooth causing the discomfort. If you experience these symptoms or suspect a cracked tooth, it's best to see an endodontist as soon as possible.
Endodontists specialize in saving cracked teeth and will cater treatment to the type, location, and extent of the crack. The sooner your tooth is treated, the better the outcome. Once treated, most cracked teeth continue to function as they should, for many years of pain-free biting and chewing.
There are many different types of cracked teeth. The treatment and outcome for your tooth depends on the type, location, and extent of the crack.
Types of cracked teeth
Craze Lines
Craze lines are tiny cracks that affect only the outer enamel. These cracks are extremely common in adult teeth. Craze lines are very shallow, cause no pain, and are of no concern beyond appearances.
Fractured Cusp
When a cusp (the pointed part of the chewing surface) becomes weakened, a fracture sometimes results. The weakened cusp may break off by itself or may have to be removed by the dentist. When this happens, the pain will usually be relieved. A fractured cusp rarely damages the pulp, so root canal treatment is seldom needed. Your tooth will usually be restored with a full crown by your dentist.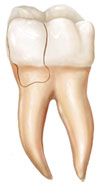 Cracked Tooth
This crack extends from the chewing surface of the tooth vertically towards the root. A cracked tooth is not completely separated into two distinct segments. Because of the position of the crack, damage to the pulp is common. Root canal treatment is frequently needed to treat the injured pulp. Your dentist will then restore your tooth with a crown to hold the pieces together and protect the cracked tooth. At times, the crack may extend below the gingival tissue line, requiring tooth extraction. A nontreatable tooth is shown in the graphic below.